THE GREAT ESCAPE (1963)
Directed by John Sturges.
THE LUDOVICO FILM INSTITUTE VOL. XV
Jail Break
"Colonel Von Luger, it is the sworn duty of all officers to try to escape. If they cannot escape, then it is their sworn duty to cause the enemy to use an inordinate number of troops to guard them, and their sworn duty to harass the enemy to the best of their ability."
To kick off this month's "Jail Break" series, I've picked a film that is near and dear to my movie-loving heart. John Sturges'
The Great Escape
is quite simply one of the best classic Hollywood epics ever produced. There is just so much that I adore about this film that I can't even begin to cover all of it. It's exciting, it's witty, it's suspensful, it's engrossing, it's everything you could want in a WWII adventure. It's also one of those films that, no matter how glum or moody my day may be, the instant I pop the DVD in and hear that opening theme song composed by the great Elmer Bernstein, I immediately cheer up. Indeed, of the four films selected for this series, this one is the most purely
entertaining
.
It tells the true story of one of the most daring and successful POW camp escape efforts orchestrated during the war. In 1943, the German Luftwaffe put all of their most notorious escape-minded Allied Forces prisoners into one camp, a compound specifically designed to hold these troublemakers. When Squadron Leader Bartlett, known as "Big X" (the great Sir Richard "Welcome to Jurassic Park" Attenborough) arrives, he immediately sets about organizing a select crew to construct three tunnels (nicknamed "Tom", "Dick" and "Harry") in a bold plan to move all 250 men under the camp and out into the surrounding forest.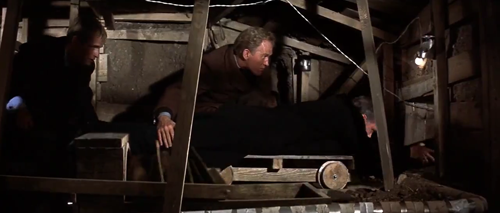 The team includes Capt. Virgil Hilts (the ultra-cool Steve McQueen, in the role that would solidify his superstar icon status), an American pilot who, thanks to his tireless efforts in trying to escape on his own, earns himself the name "The Cooler King" because of the amount of times he is relegated to isolation as punishment for his endeavors, and whose knowledge of the layout of the surrounding country is crucial to their planning.
Also key to the effort are, among many others:
-Hendley, aka "The Scrounger" (James Garner, in his charming and suave prime), who has a unique ability to obtain essential supplies and who, in one of the film's funniest scenes, blackmails a novice guard for needed items.
-Colin Blythe, aka "The Forger" (Donald Pleasance, in a truly endearing performance), who can fake right down to the tiniest detail any documents needed for official passage across Nazi Germany.
-Sedgwick, aka "The Manufacturer" (James Coburn), an officer in the RAAF, and who is in charge of constructing the various tools needed for the operation, including an ingenious air flow system for the tunnels. Coburn, like everyone else in the cast, is extremely likeable here and his humor and enthusiasm is infectious. (His smartass response to a guard's query as to why he's hanging about in the men's shower room is one of my favorite lines in the film.)
-Danny Velinski, aka "The Tunnel King" (Charles Motherfuckin' Bronson, one of my all-time favorite movie stars), who is in charge of the construction of the underground tunnel system, and who develops acute claustrophobia after nearly being buried alive during the dig. (His character's nickname was also, as you may recall, the inspiration for one of the best and most vulgar lines in Quentin Tarantino's
Reservoir Dogs
.)
The mission is not merely intended to get the men out and get them home, but instead to disrupt and cause chaos amongst the German police and military personnel in an effort to focus as much attention away from the front lines and into the pursuit of the escapees as possible. But the SS is wise to this goal and has warned "Big X" through torture and intimidation that should he pursue this effort, he will be shot. Which only serves to motivate him even more.
What I love so much about this film is that it takes this fascinating piece of history and quite cleverly turns it into a marvelously entertaining
caper
film. The conception of the plan, the execution of the operation, and the resultant race across enemy territory are all handled and paced so deftly by Sturges and screenwriters James Clavell and W.R. Burnett that you find yourself completely engrossed in every single element, from the smallest details (the way they brilliantly dispurse all of that dirt they're moving, how they handle the tunnel support issue, the tailoring of their clothes to help disguise them on the outside) to the various edge-of-your-seat getaway attempts (when Cavendish trips coming out of that hole, I gasp every time). The film is nearly 3 hours long but seems as if it runs only half of that.
The cast for this film may just be my favorite ever assembled. It's a great "hang out" film. You get to know and like these characters so well that you feel as if you're one of the team while watching. Much like
Jaws
and
The Magnificent Seven
(another Sturges production that features a few of the same cast members), everytime I see it, I feel like I'm visiting old friends. They're just
that cool
.
There are so many great moments in this film, both big and little. I love the way Col. Von Luger (Hannes Messemer, who would have made a great Brainiac with that huge German dome of his), who is in charge of the camp and who is an obvious Allied Forces sympathizer, gives a half-hearted "Heil Hitler" to the SS stooges barking orders at him. I love the way the prisoners, within about 5 minutes of arriving at the camp, instantly begin scheming to escape. (Which prompts yet another one of my favorite lines in the film when Bronson and Coburn try to blend in with the Russian work detail leaving the camp and Coburn asks Bronson if he speaks any Russian. He knows one sentence, one that probably won't help.) I love the smirky, rebellious detachment of McQueen's "Cooler King" as he gladly looks to make trouble for his captors in any way possible while he casually throws around that baseball of his. (Also fun is the way he uses this baseball as a means to test out a theory he has about the limited visibilty of the guard towers.) And I love the sense of comraderie amongst the men, how they respect each other and the relationships that develop between some of them, the most touching being the way Garner takes responsibilty for the well-being of a nearly-blind Pleasance during their escape.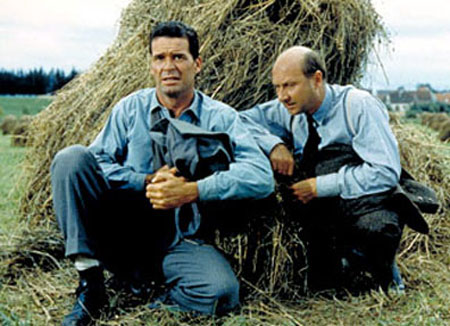 It's a real testament to how effective the mechanics of this story are that I find myself, no matter how many times I see it, cheering for their successes and mourning their losses. When certain characters make it out, I still smile everytime. And when other characters meet with a tragic fate, I still feel the heartbreak. Without giving anything away (although if you know the actual facts of the story at all, this isn't a spoiler), the scene that details what happens to "The Fifty" still devastates me every single time I see it. (The look on one particular character's face as he turns and realizes what is about to happen just plain kills me.)
Of course, I would be remiss if I didn't mention the Big Moment in the film, the one truly iconic set piece. The moment that has me in near fits of applause every single time. I'm talking, of course, about Steve McQueen's getaway attempt via motorcycle. Of all the great scenes in the film, this is the one that most definitely catapulted it into the Classic status stratosphere.
I can ramble on all day about this film. It is marvelously cast, breathtaking in its pacing, ingenious in its narrative construction, and dazzling in its ability to take one of WWII history's most notorious and unbelievable chapters and make it one of the purest pop movie events of all time.
Did I mention how much I love this film?